SEO Services
Blue Fusion Digital SEO Services Organic SEO Services
Many companies want too get their website ranked on the first page of search results on all of the major search engines because the organic search results are the most heavily trafficked results on the web. Organic search results receive about 80% of all clicks stemming from search engine result pages also known as SERP's. Since organic search results receive such a large portion of the internet's market share it is also the most competitive form of digital marketing. Unlike A Pay Per Click campaign, where you can "buy" your placements in the search results, the organic search results must be earned through a number of different ranking factors.
Each major search engine has a unique algorithm that determines which websites should rank for each keyword online and how to place a specific website or page on a website. Google is the most dominant search engine in the world today and also is the most frequently updated, between 300-500 times per year. Search Engine Optimization ranking factors include: website architecture, content, link building, domain authority, page authority, domain age, page loading time and dozens of other factors. The factors are what makes SEO so difficult but luckily for you it us our passion!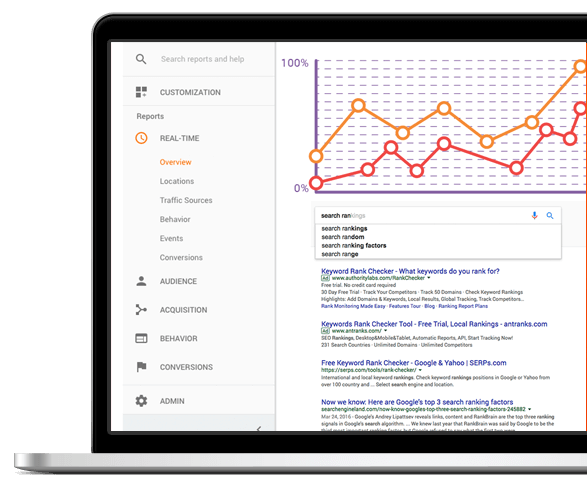 Claim Free 45 second SEO Audit
SEO Assessment Services
SEO Assessment Services – Blue Fusion Digital offers a search engine optimization assessment that covers a wide range of measurements. Such as current keyword selection, current rankings, inbound linking profile, outbound linking profile, inner linking strategies, quality of content, title tag and meta description tag review. We then break down your competition for those keywords and check the linking profiles, quality of content and title tags and meta descriptions of your competitors. Essentially, we can reverse engineer what strategies are working best for which companies for specific keywords. This is the competitive digital marketing analysis service you have needed to gain the upper hand in the search engines and it is now available from Ventura County's best digital marketing agency, Blue Fusion Digital.
Google Penalty Assessment – Since 2011 Google has created, updated and refreshed there algorithms over 1,500 times! April of 2011 was the first real major shake up to the algorithms and they named it Panda. The Panda algorithm update focused on websites with low quality content such as keyword stuffing, thin content and text that was the same color as the back ground which would sometimes fool search engines.
Later in 2011, Google launched another algorithm change and they called this one Penguin. The focus on Penguin was to target websites that had shady link building practices such as, porn links, gambling links, drug links and any links that were not relevant to the page it was linking too. This new algorithm completely shook up the internet, many search engine optimization companies completely shut down operations because they could never recover the rankings for there clients.  Websites that had always implemented white hat search engine optimization services became even stronger in the search results and many of those companies still remain on the top of the search engines today.
If you were hit by one of these algorithm updates you will have noticed a severe if not complete drop off in your rankings and web traffic somewhere between April of 2011 and today. You should have been alerted in your Google Webmaster Tools of any penalty whether it be from a algorithm change or a manual action penalty that was handed out to you by someone at Google.
Blue Fusion Digital offers both Panda penalty assessment services and Penguin penalty assessment services that start with an audit and consultation of which update might have caused your website to be hit and what we can do to get your rankings back.
Claim Free 45 second SEO Audit