Search Engine Optimization
Search Engine Optimization also known as SEO is the most common form of search engine marketing. What's Your SEO Score?
This is your chance to see how your website and seo compares to your top competitors in 45 seconds!
Many companies want too get their website ranked on the first page of search results on all of the major search engines because the organic search results are the most heavily trafficked results on the web. Organic search results receive about 80% of all clicks stemming from search engine result pages also known as SERP's. Since organic search results receive such a large portion of the internet's market share it is also the most competitive form of digital marketing. Unlike A Pay Per Click campaign, where you can "buy" your placements in the search results, the organic search results must be earned through a number of different ranking factors.
Each major search engine has a unique algorithm that determines which websites should rank for each keyword online and how to place a specific website or page on a website. Google is the most dominant search engine in the world today and also is the most frequently updated, between 300-500 times per year. Search Engine Optimization ranking factors include: website architecture, content, link building, domain authority, page authority, domain age, page loading time and dozens of other factors. The factors are what makes SEO so difficult but luckily for you it us our passion!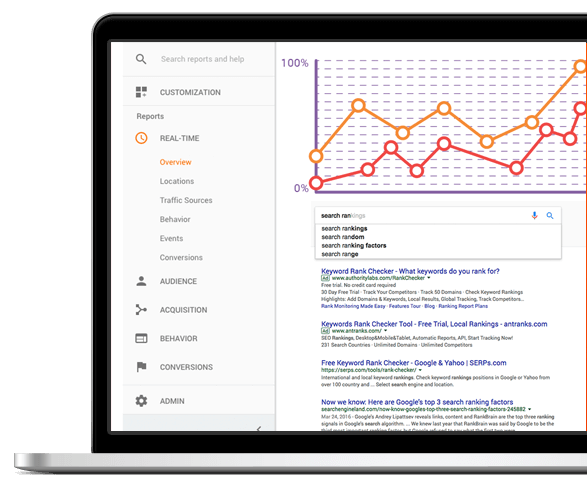 Claim Free 45 second SEO Audit
Search Engine Optimization Services (SEO)
Your business is one of a kind and your SEO should be too! All of our SEO retainers are strategy first, which simply means we not assume what your website needs. Instead we will do an analysis of the actual opportunities your website needs to be successful online. 
Our SEO consulting gives you flexibility for your specific needs. Whether you need a second opinion on your current SEO strategy or need an SEO strategy to be built from scratch our SEO consulting is available for you.
Content is what drives the entire internet. Does Google believe your website is providing value to your searchers? Is your content being connected correctly so the search engines can easily silo it together? 
In the early days of search engine marketing, SEO was much less complex. The general practice was to build a website and buy hundreds if not thousands of links from overseas for very cheap. Paying for links was never acceptable according to the Google guidelines but it was extremely effective and websites all across the internet were grabbing first page rankings. The search engines always had certain guidelines but they were never heavily enforced until April 2011. This is when Google releases there first major algorithm change designed too really crack down on websites that were not following there original guidelines. The first algorithm change was called Panda and targeted websites with low quality content and websites that had little information "above the fold". A few months later Google launched its second major algorithm change and called it Penguin. This Penguin algorithm change targeted websites with spammy linking tactics.
Now search engine optimization companies need to be completely "white hat" which means all of your SEO practices need to follow and abide by the Google guidelines or your website risks getting penalized which can result in your website getting completely de-indexed in the search engines. Since it is an algorithm it does not matter how big or small your company is, your website is not immune to "black hat" techniques. Google penalized large companies such as JC Penny, Overstock and BMW Germany for shady SEO practices.
Blue Fusion Digital is a 100% white hat search engine optimization company and clearly follows all guidelines whether it be from Google, Bing or Yahoo. We believe in achieving our rankings through high quality content, relevant link building and SEO friendly website architecture.
After you come on-board with our team we immediately start going to work on your seo campaign. The very first thing we do is a On-Site Website Audit, this audit shows us all of the important aspects of your on-page optimization. Specifically, we break down you:
Are you targeting keywords?
Are they keyword optimized for SEO?
Are you using a full set of headers or only
Are any of your internal links broken?
Are you targeting keywords?
Do you have enough keywords for the search engines to take you seriously?
Are you getting any 404 errors?
How to do a Website Audit
Using Screaming Frog SEO Spider
The second thing we do is your SEO Keyword Research, this is the portion of your campaign where we determine which keywords we should target both right now and in the future. What does that mean? Blue Fusion Digital has a specific SEO Keyword Research methodology we use both internally at our own agency and most importantly for all of our clients. The methodology is simple, we want to create a digital marketing strategy that is going to set up our clients for success As Soon As Possible with long tail keywords and maximize their investments with us by targeting the most competitive terms (short tail keywords) in the future. Every single business owner in the world would absolutely love to be #1 on the first page of Google, Bing and Yahoo for the shortest keyword (Most competitive) because those are the keywords that get the largest search volume. If we use Blue Fusion Digital as an example, the #1 Keyword for someone in our industry would be "SEO" the keyword "SEO" is searched for 670,000 times per month. WoW, that is a ton traffic! Unfortunately, we are not going to be able to rank in the #1 position for that keyword for a very long time, if ever, because we just don't have the resources to make that sort campaign work. Does that mean we shouldn't do Search Engine Optimization for ourselves? Heck, No!
What this does mean is we need to work smarter, we target "longer tail keywords" that still offer up relevant traffic to our business but the keywords provide a much more attainable position 1 search result. The great news is if you do your SEO keyword research correctly you can get as much if not more then the same amount of traffic from the combination of your medium-long tailed keywords as if you only targeted a few short tail keywords with the same amount of resources.
Here is a quick reference to some example of short tailed keywords vs long tailed keywords:
Short Tail Keyword: "SEO" 670,000 searches per month
Long Tail Keyword: "SEO Company San Diego" 210 searches per month
Medium Tail Keyword: "SEO Company" 22,200 searches per month
Long Tail Geo-Modified Keyword: "Best SEO Company San Diego" 10 searches per month
What is the best way to perform keyword research? Blue Fusion Digital uses the Google Adwords Keyword Planner to perform SEO Keyword Research all of our clients! Here is a quick video that explains how to use the Google Adwords Keyword Planner.
Now that we know what keywords we want to focus on we need to devise our SEO strategy. The way Blue Fusion Digital devises our SEO strategy is by working smarter, we don't believe in re-inventing the wheel. We take a look at the keywords we have decided on see who your top competitors are and we reverse engineer what they are doing well. How does Blue Fusion Digital reverse engineer a competitors website? That is a fantastic question! We use a few tools such as Open Site Explorer, Ahrefs, Raven Tools and SEM Rush to break down your competitors linking profiles.
Some of the things we check in your competitors lining profiles:
Number of links – Total number of links your competitors have
Number of Root Domains Linking – How many different domains are linking to them?
Anchor Text – Are they using money keywords, branded keywords, naked URL's?
Quality of links – Where on the page is the link? (body, footer, side bar, etc.)
Quality of Root Domains Linking – Are they getting low level domains to link to them?
Deep Link Ratio – How many links are going to the homepage vs. internal pages?