Review Marketing Company
What is review marketing? Review Marketing is one of the least practiced forms of internet marketing but is without a doubt one of the channels that create the largest impact in the digital marketing world. Review Marketing is simply making sure the general public is able to see all of the feedback your happy client base is willing to share.
Every single business is only one bad review away from a terrible reputation online!
of consumers trust online reivews as much as a personal referral
of consumers would try a business with a 4 star rating or better
of consumers would try a business with 3 stars or less
businesses increase in revenue correlated with just a 1 star improvement
of consumers find a local business via the internet
business owners correlate a decrease in business with just a drop of one star
How much of an impact can one star rating really make? According to a study done by Neilsen, a company with a 4 star rating or higher is 80% likely to be trusted by a consumer. When that star rating drops down one star to a 3 star or lower that trust rating plummets to only 14%!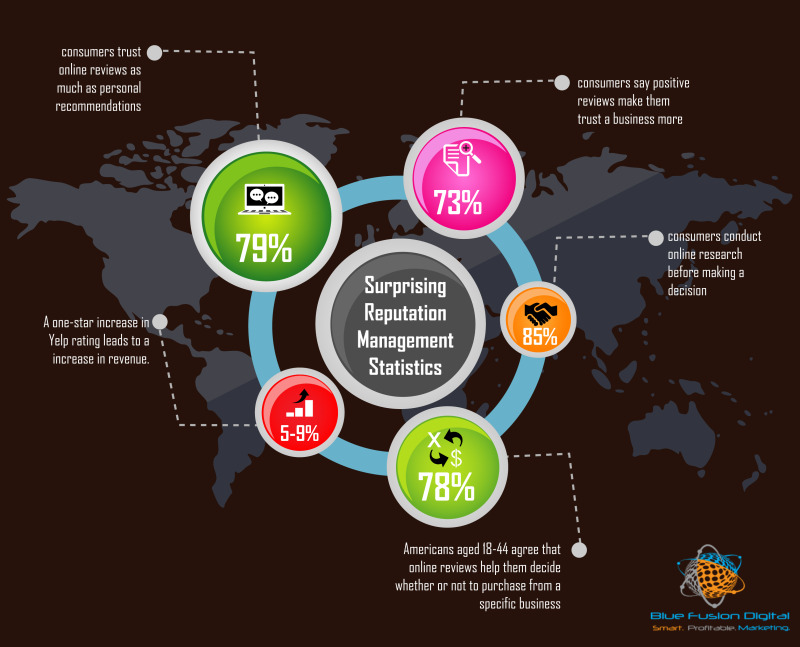 Most business owners understand the importance of a five star review they receive from a genuine customer. Most businesses get a review from less then 1/100th of the potential clients they see every day. What if you could turn the percentage from 1% all away up to 10% or even 60%? Blue Fusion Digital has a proven methodology and platform that enables you to increase the percentage of reviews you are collecting from your client base in the matter of minutes. Your actual and genuine client base will leave you a 4 or 5 star review before they leave your establishment!
What if getting the review was only the first step? What if you could take those four and five-star reviews and make sure that all of your clients, customers, and/or patients could not only see the reviews but also share them with all of their family and friends. All of this is possible with Blue Fusion Digital and our expert team of review management experts in San Diego, CA.
Blue Fusion Digital is a Review Marketing Company and we have this down to a science! Our winning formula can be broken down into 3 simple steps.
Establish your presence on the top online directories.

There are over 100 review websites across the internet, we will establish you on the review websites that matter most!

Collect REAL reviews from your Actual Clients.

Don't get caught buying or posting fake reviews!

Market those reviews to generate more business.

Reviews can increase conversion rates by up to 25%!
Market Reviews via:

Social Media
Landing pages
Customer Review Videos
Google Adwords Ads
Blue Fusion Digital offers a full-scale Review Marketing platform that puts you in the drivers seat.
How To Collect Google Reviews in 60 seconds!
How To Collect Yelp Reviews in 60 Seconds!
Here is an example of what the reviews look like when they are posted to your social media accounts such as:
Facebook
Twitter
LinkedIn
Google+
Pinterest
Flickr
Blue Fusion Digital has helped over a hundred clients build a 5 star culture in their businesses, improve their online reputations by collecting real reviews with out review marketing services and clean up their images by burying negative press with our online reputation management and we can do the same for you. Contact us today for your free reputation report!