Web Design
What can a professional web design company offer you? Blue Fusion Digital is not just an seo company we are a complete local digital marketing agency and fully equipped to handle any and all web design projects. In fact we were recently named the best web design company in Newbury Park! We can help with custom logo design services, custom banner ads, professional letter heads, professional brochure designs, custom business card designs and much more.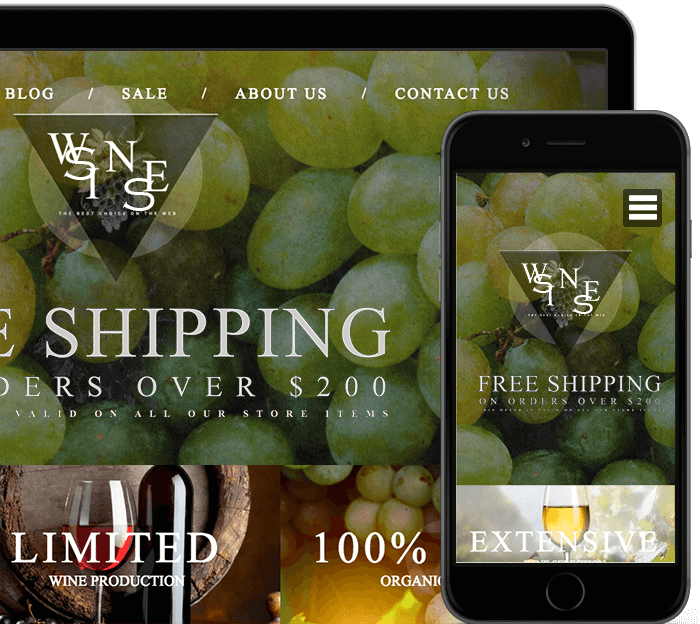 Website Design Company San Diego
If you have a business, it is imperative that you have a website. Most businesses will lose customers if they don't have a professional looking website or don't have one at all. Websites are the new way that businesses can reach new customers and an easier way for people to find them and see the products and services that they offer. That is why you need not just a good but an exceptional website design company in San Diego and you should give us a call. We will create a professional website for your business and make sure that it will stay up and running.
What do we do?
We are the best website design company in San Diego and we can do everything for you so you don't have to worry about your website. We first go over everything with you and listen to what you want on your website and we make suggestions to ensure that your website is preforming at its best and isn't too cluttered. Once we have all of the information about your business, then we go to work on building you the website that you asked for. Our design team will take all of the information and code it so it will look great. And we also do the maintenance on the website so you don't have to worry about learning how to do it yourself or we can help you do updates on it yourself. Either way, you know that you will be getting a great website design company in San Diego with us.
We Take Care of Everything
Most website design companies just create the website but we go one step further. Our company also does repairs and updates. We do hosting and maintenance and we can help you with website growth and analytics and performance for your website.
Why should you Get Your Website Design from Blue Fusion Digital?
Website design can be difficult to do if you don't have the experience. You could use one of those free sites like Wix or WordPress but they are all preset with templates, when you come to use we give you a custom website from scratch and put whatever content you want on it. This might be a little more expensive but in the end you will make up for it in the new customers and sales that you get from the website. For example, if you are a pizza restaurant and there are ten other in the area like you, if you don't have a website, there is a good chance that people will choose one of the others if they have a website. Also if one of the other websites doesn't work well or doesn't have the information the customer wants on it, then they won't use that one either. Our company will make sure that your website will be easy to find and will have all of the information that it needs to keep the customers on your site.
Customer Service
We haven't been in business as long as the others but we make up for it in our services and customer service. We are committed to keeping our customers happy and making sure that they get exactly what they wanted and we fix any mistakes that might have happen at no extra charge. We know that our customers are number one and we are one of the website design companies in San Diego that puts their customers first always. If you don't believe us, contact us to see what we can do for you. We give you high quality work, in a small amount of time.
And unlike other website design companies in San Diego, we will make sure that everything is perfect before we sent the work to you. We don't want you to be left with a website that doesn't work. This will harm your business. We want to make sure you are getting your money's worth in our service or we aren't doing our job right. Our service doesn't end after we give you the end product. We make sure that your website keeps being efficient even after delivery. We excel at post-sale service.
More than Just Website Design
When you get your website design from our company, you get more that a website we also do more so your website can be found easier. We make sure that your website can be searchable by computer and mobile because mobile users want a different experience when they look for websites on their smartphones. You don't want your website to be unreadable on mobile so we make sure that you have a mobile site as well. We also make sure that SEO is used on your website so it can be found by people near and far. We choose some of the most popular words that describe your business and put them on your site so you can get people to your site easier. Our company is one of the only website design companies in San Diego that will do all of this for you at a great price.
Why Choose Blue Fusion Digital?
If you are a business owner or want to grow your brand and so on, we can help you get the website that you need at a great price and with all of the great extras. We don't want you to lose customers because you don't have a great website, that is why you should call us. Our website design company in San Diego is one of the best and we do more than just build you a website. We give you a great marketing tool that you can use to grow your business. While we are a young company, we stride to keep our customers happy and make sure they get the best service and website no matter the business.
So if you don't have a website for your business, give us a call and we will create a top notch website that will get your business attention and drive customers to your site and your store. Creating a website with our company will pay for itself because you will be reaching more potential customers, which will create more revenue.
Let Us Design Your Dream Website