There are thousands of ultra-talented web designers in the world so why choose us?
First, we are not just a web design company instead we are a full scale digital marketing agency which means building your website is only the first step for our clients. The whole point of building an amazing website is so people can learn about you when the search for a product or service that you offer.
Second, we build websites with conversions in mind. What does that mean exactly? It means the websites we build are designed so when people do find your website they are much more likely to take action whether that is a phone call, filling out a contact form or engaging in a live chat.
After all, shouldn't your website be making you money?
Here is a list of questions you should be asking web designers and web design companies who you are considering for your new website design project.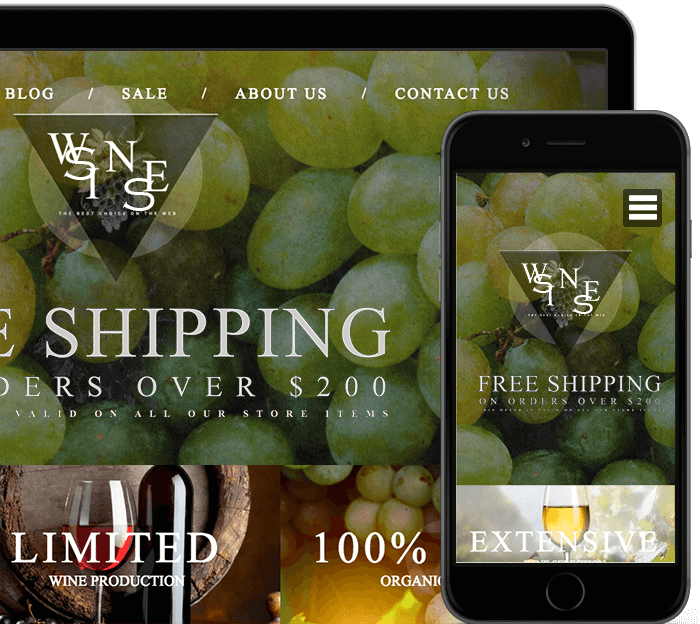 Web Design FAQ's
What CMS is the website going to be built on?
WordPress
Is it a smartphone friendly (mobile responsive) website?
Yes, all of our websites are mobile responsive which means that your website will automatically adapt to smartphones, tablets, laptops and desktops.
Who is going to make updates?
Since our websites are built on WordPress they are going to be very easy to use and to navigate. Each website we build also comes with a free 1 on 1 website consultation in which we will show you how to add a new blog post, create a new page, update title tags, meta descriptions, etc.
Is my website secure?
As long as your website is hosted with us we provide a SSL for your website which makes it HTTPS instead of the traditional HTTP. This is significant because in July 2018 Google Chrome will now show your website as being unsecure if you don't have a SSL socket.
Who buys and owns the domain name?
We always recommend you buy your own domain name so that way legally you own it and nobody will be able to leverage that against you if you choose to end the partnership. For example, some web designers will buy your domain and hosting for you and then build the site for you but somewhere down the line you want to leave for whatever reason and instead of you being able to pick up the phone and sign with someone reputable like us – they tell you they own the domain name and hosting and either refuse to release it to you or make you pay an extravagant fee for the release of the website you paid for! Sounds crazy but it happens all the time.
Who buys and owns the hosting?
Speaking of hosting – we recommend you purchase hosting with WP-Engine and they have plans that start as low as $29.99 a month. We also have our own server on there and we include hosting with your package. The site is 100% yours as long as it is paid for in full and you are free to move it whenever you want – again as long as it is paid for in full.
How much do you charge for Web Design Services?
We are a business that is only successful when our clients are successful so we offer multiple ways you can pay for your site.
The first way is to pay for everything in a one-time payment which is the industry standard. The second and most popular way is to pay monthly. This is an amazing offer for businesses that are new and might not have a ton of capital to invest into a high performance website. We do not charge any interest on the monthly payments.
Either option will ensure you have 100% ownership of the website once the website has been paid for!
To get started contact us for a free website design quote.
Is the Website SEO friendly?
Yes, all of the websites we build are going to be SEO friendly. What does SEO Friendly mean? That means your website will have Google Analytics and Google Search Console installed. We will create you an XML and HTML sitemap. We will submit the XML Sitemap to Google Search Console. Your website will load very quickly. Your website will be mobile responsive.
Our websites do not include SEO though which is different. SEO Friendly means we lay down a solid foundation for you but SEO consists of many unique ongoing and recurring tasks.
Ask about our SEO discounts for websites we build!
Do you really get a discount on SEO and PPC when you build the website for us?
Yes, one of our clients favorite aspects about letting us build your website is the fact you are entitled to a discount on our SEO and PPC programs because we know the website was built correctly and we can see the full picture. We even offer a free custom website with select custom SEO strategies. 
Why would we give you a discount?
In exchange for letting us build your website and the many perks that come with it from your end we also get benefits as an agency such as being able to make changes to the website to improve your marketing campaigns without having to try and reach a third party web developer or web designer.
Pros:
Built on WordPress

All of our Websites are going to follow the best industry practices.

Mobile First In Mind

Mobile Responsive

Ultra Fast Hosting

SSL certificate

Automatic Backups

Automatic Updates on Theme and Plugins

99% Uptime

CDN

XML Sitemap

HTML Sitemap

Google Analytics implementation

Google Search Console implementation

New website every 24 months